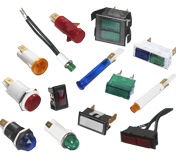 Inventory
Solico has a diverse collection of lighting for any and every application that you might have. Looking for something specific? Type in the part number to check what we have in stock.
Inventory
Sorenson Lighted Controls offers a wide variety of lighting solutions. Use our Inventory Search below to view our Authorized Franchised Distributors Inventory for available SOLICO Products.
To Search Inventory simply enter at least three digits of any SOLICO Part Number in the field below and click search to view availability.
Contact
Address:
100 Shield Street
West Hartford, CT 06110
Phone:
860-527-3092