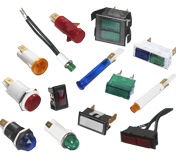 PRODUCT CATALOG
Sorenson Lighted Controls is a vertically integrated manufacturer of panel mount indicators and integrated lighting solutions. We offer a wide range of industry standard pilot lights backed by engineering capabilities to create rapid prototype models and custom products to fit your demanding applications.
Round Indicator Lights
SOLICO manufactures industry-standard round indicators with neon, incandescent and LED light sources. Mounting hole dimensioning range from .173" up to .69" depending on series. Our 64-67 Series are supplied with a panel seal, hex nut and lockwasher. The 64 and 65 Series are NEMA 3-R approved.
Rectangular Indicator Lights
SOLICO's rectangular indicators are designed to fit industry-standard panel cutouts. Two styles are available, single lens and dual lens. Bezels can be provided in white, black or stainless steel. Indicators can be customized to your specifications with pad printed or hot stamped legends or symbols.
Rear Mount Indicator Lights
SOLICO's rear panel mount indicators are mounted by placing the lens through the panel mounting hole and snapping the housing over the lens flange behind the panel. Wire leads and quick connect terminals are available and illumination is provided by either neon or incandescent lamps.
LED Indicator Lights
SOLICO's LED indicators are our brightest, most durable and longest lasting products with an estimated electrical life of 60K-100K hours. LED's are impervious to shock and vibration, ideal for marine and transportation applications. LED indicators are low power consumption devices available with standard-bright, high-bright, ultra-bright or daylight visible light output.
Flex Lights
SOLICO's UL Listed Flex Lites employ the latest surface mount LED and flexible PCB technology and are available with high bright 3528 or ultra bright 5050 LEDs including RGB. They are available as unsealed, dustproof (IP-54), sealed (IP-67), or waterproof (IP-68) on 16 or 32 foot reels, or can be ordered as pre-assembled custom lengths ready to install.
BR Series
SOLICO's BR Series is designed to offer an aesthetic quality and polished LED light output for a wide range of applications. The LED is extremely durable due to its solid-state design and ability to withstand a wide temperature range. SOLICO LED lights reliably indicate the status of different components, reducing the need for maintenance and save energy in your application.