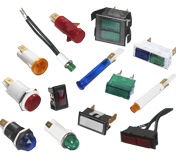 Representatives & Distributors
SOLICO has representatives and distributors throughout the United States, Canada, and Mexico. Please use the tools on this page to find a source for SOLICO products nearest you.
Southern California
Signal Enterprises
David Berryman
(Responsible for South Bay & Orange County)
1659 North Hale Avenue
Fullerton, CA 92831
Mobile phone: 714-402-6221
Home Fax: 714-871-3732
david@signalent.com
Open - contact David Berryman
(Responsible for West LA & San Fernando, Simi Valleys- North to San Luis Obispo and High Desert Area)
Jay Walters
(Responsible for East LA & San Gabriel Valley, San Bernardino and Riverside Counties)
955 Roosevelt Road
Redlands, CA 92374
Mobile phone: 951-317-6144
Home Fax: 909-748-6472
jay@signalent.com
Ron Welden
(Responsible for San Diego & Imperial Counties)
35260 Billie Ann Road
Wildomar, CA 92595
Mobile phone: 760-500-5477
Home fax: 951-678-1949
ron@signalent.com
Darlene Perales
(Inside Sales)
9849 North Side Drive
Leona Valley, CA 93551
Phone: 661-270-1219
Fax: 661-270-0517
darlene@signalent.com
Northern California
SOLICO
1-800-275-7089
CARLTON-BATES
520 E Weddell Drive Suite 8
Sunnyvale, CA 94089
Phone: (408) 400-9586
ELECTRIC SWITCHES PREMIER
465 Easy St., Unit F
Simi Valley, CA 93065
Phone: (800) 492-8002
SELECTA-SWITCH, INC.
1200 E. Tehachapi Blvd
Tehachapi CA 93561
Phone: (661) 823-7050
WES-GARDE COMPONENTS GROUP INC.
725 E. Cochran Dr, Unit D
Simi Valley CA 93065
Phone: (805) 579-7200 / 1-800-554-8866
WESTERN SWITCHES & CONTROLS
750 Challenger St.
Brea, CA 92821
Phone: (714) 482-4100